​ENTRIES CLOSE: Wednesday, April 18, 2018, 12:00PM PDT

After which entries cannot be accepted, cancelled or altered or substituted except as provided for in Chapter 11, Section 6 of the Dog Show Rules, or Chapter 1, Section 16 of Obedience Regulations.
Dock Diving- Register Now - Click here to 
SIGN UP
Jason Rigler

Closes 05/10/2018 at midnight (2 days before event)
Payment required at check in (Cash preferred), No Refunds
"Day of Show" entries may be available until limits are reached: 40 dogs per Splash, Air Retrieve/Vertical limits 10 dogs per Splash
Herding May 12,13 NOT ARC - Premium
​Open to all AKC Registered Breeds approved to participate in AKC herding Tests/Trials, and dogs with ILP#s of these breeds
Preference will be given to Rottweilers until March 31, 2018
All Non Rottweiler entries received before March 31, 2018
will be placed on a Wait List, and then entered in order received after that time
Entries Close: Wednesday April 18, 2018 6pm
After this time, entries cannot be accepted, cancelled, or substituted.
Drawing for running order will be made at Secretary's home on, Wednesday April 18, 2018 at 6:00 p.m

​ENTRIES CLOSE: April 18, 2018 at 6:00 PM MDT after which time entries cannot be accepted,cancelled, altered, or substituted except as provided for in Chapter 11, Section 6 of the Rules Applying to Dog Shows. Entries over limit will be placed on Alternates List. 
Greetings to All Rottweiler Enthusiasts!
The American Rottweiler Club National Specialty is rapidly approaching. The National will be held at the Purina Event Center in Gray Summit, MO, from May 12 through 19, 2018.
The American Rottweiler Club and the Rottweiler Health Foundation will once again hold a combined raffle and auction at the National. You can participate by donating a treasure (or two!) to help us make this a spectacular display and a robust fundraiser.
If you donate, please attach a tag to the item that states:
The monetary value of the item;

The name, address and email address of the donor; and


The designation of the proceeds from the raffle or auction of the item (ARC, RHF, or RRF).
If you are unable to deliver the item to the National, please find a friend to deliver it for you.
Proceeds from this fundraiser are used by the American Rottweiler Club to subsidize costs for the Armetale trophies that are awarded each year at our National Specialties, by RHF to support critical research into the genetic, communicable and acquired diseases that plague our beloved breed, and by the Rottweiler Rescue Foundation to help Rottweilers find forever homes by supporting more than 45 Rottweiler Rescue groups in the United States.
We hope this fundraising opportunity will be spectacular, and we appreciate your participation!
Connie Hinz
Class Dogs Veteran Dogs and Intersex

Anthony DiCicco 
Class Bitches Veteran Bitches/4-6 Puppy Competition/Stud Dog and Brood Bitch

David Loring-Brown

Junior Showmanship

Sweepstakes


Debra Saavedra Puppy Dogs, Veteran Bitches, Best in Veteran Sweepstakes

Ann Callahan Puppy Bitches, Veteran Dogs, Best in Puppy Sweepstakes 

2018 Exclusive Video Policy & Release

The professional video services and live streaming at this show are governed by an exclusive video contract with the Club.  No other commercial video recording, video recording from a tripod, monopod or other supported camera/device, or any video recording or streaming of large parts or whole classes shall be permitted.  The contract terms permit individuals to record small bits of video of their own dogs only, and using handheld devices only (e.g. phone, tablet or small camcorder).
 
On Line Streaming of show video to Facebook, Facebook Live, YouTube, U-Stream, Live Stream or any other comparable online or social media outlet is strictly forbidden!
 
Submission of an entry form and/or physical presence on the show grounds shall constitute both implied and real consent for both the handler and the dog to be professionally video recorded and streamed live only by the professional video services as contracted by the Club for this show.
 
All rights to video record and live stream or otherwise exploit this event and/or the persons or animals participating in it, including the names, likenesses and biographical matter of dogs, owners, handlers, breeders and kennels participating in the event shall belong solely to the show giving Club and/or the American Kennel Club, Inc.  No spectator, participant, owner, handler, breeder or kennel shall make commercial use of any video recordings of any person or animal participating in this event without prior written approval from the Club.  This event may not be broadcast to social media (e.g. Facebook Live, etc.) without prior written approval from the Club.
 
Violation of these show video policies may result in an Event or Bench Committee hearing and appropriate disciplinary action.


​E-mail: [email protected]                Website: www.showdogvideopros.com
​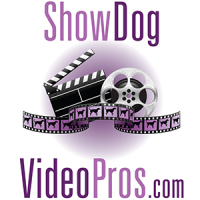 Sign up for LIVE streaming passes now at:
https://www.showdogvideopros.com/Rottweiler/

We will be filming your show in 4K, which is absolutely gorgeous! 
 
Folks who purchase a streaming video pass will get three different kinds of streams:
(1) LIVE - in real time, during the show each day
(2) DVR Instant Replay - essentially the LIVE feed activated for instant replay at the end of judging each day
(3) RECORDED - available starting the next day, these streams are available 24/7 and include class by class links for random access.